There are many ways to get involved in peatland conservation: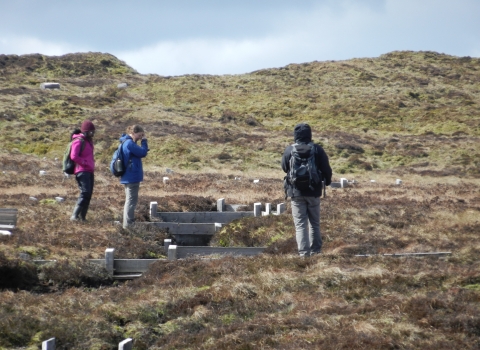 Volunteering
Join our voluntary trainee team, learn new skills and gain experience within a friendly environmental organisation.
Our voluntary trainee roles are open to anyone wishing to gain that all important 'hands on' experience to offer a competitive edge when applying for jobs.
These roles are usually part-time, so anything from 2-5 days a week, and can last from 6 - 12 months.
Our voluntary trainee roles are part of a wider rolling programme of Traineeships offered by Yorkshire Wildlife Trust – you will be part of a team of 20+ voluntary trainees and are offered an internal programme of training, development and support as well as a competitive budget for training. We also offer a contribution towards daily out-of-pocket travel expenses to all our voluntary trainees.
Volunteering case studies
Matthew Snelling

I am a recent university graduate where I studied Biology, Ecology and Environmental Science. I have always had an interest in the natural world and the YWT traineeship provided me with a fantastic opportunity to apply the theory I had learnt in a practical and professional setting. The internal training courses were a valuable resource to developing the skills I need now as a Peatland Restoration Assistant.

I have been based in the YWT Skipton Office since I joined the organisation in 2016 and the Yorkshire Peat Partnership and Yorkshire Wildlife Trust staff have always been supportive and ready to share their skills to aid my development. 

The challenges of my current role and the freedom to pursue my own personal development has given me a great start to my career in nature conservation.
Roz Barden

I wanted to change my job and do something worthwhile and even make a difference. So I applied to become a trainee on the Northern Reserves 3 days a week to give some good background experience in nature conservation. The experience was great, seeing different reserves, working with volunteer groups, learning new skills, I even helped on a large boardwalk project. Within YWT you felt valued as a trainee and part of the team, when it came to internal vacancies – I applied. This was the break I needed to get into the Peat Team and my first real job in the conservation sector.

This was the break I needed to get into the Peat Team and my first real job in the conservation sector.
Mark Perry

As a keen supporter of environmental protection with a fascination of ecology and natural history, I set myself the commitment to become an ecologist to help improve understanding of the natural world and so make better decisions for the environment. However, I discovered that it takes a great deal more than a university degree to qualify me for such a thing; there's also a multitude of complex practical skills for me to master to make myself employable in the ecology sector. Just some of these skills which I identified including using GIS, carrying out Phase I habitat surveys and surveying and handling protected species. The big question for me was where to get started with it all…

A great solution presented itself in the voluntary traineeships offered at Yorkshire Wildlife Trust. I was then delighted to find and take the Yorkshire Wildlife Trust traineeship on the Yorkshire Peat Partnership to get me on the right track, with the closeness to home being a bonus. This is now proving to be a good way to furnish me with the sought-after technical skills for the ecology sector. There's also a reasonable budget to finance other relevant courses to for me to take outside the YWT environment.

So far, learning GIS has been one of the highlights of the traineeship, particularly with the real-life applications which I have already used it for and thanks to Colin McLeod's excellent book, "GIS for Biologists". I have also enjoyed taking part in the sphagnum planting and vegetation and peat surveys in Nidderdale; alongside experiencing the ethos and function of a highly dynamic and enthusiastic peat restoration team.

Admittedly, it will take me longer than the one year of my traineeship to bring my ultimate career to fruition, but this traineeship is definitely guiding me in the right direction and I look forward to the sense of achievement that awaits me at the end.

 

I enjoy every moment of my time here and like to think that every little bit which I learn, whether it's technical or character-building, will help me in the years to come.
Current vacancies

We currently have no vacancies - please check again soon.