Yorkshire contains almost 27% of England's blanket bog*.
Land management

Sheep erosion damage © Jenny Sharman

Most peatlands are criss-crossed with drainage channels known as grips. These take the water off quickly and were previously encouraged by Government, in a failed attempt to make the land more productive. Today, many peatlands are farmed with livestock, which can contribute to erosion and habitat degradation. Many are also managed for shooting grouse, with increased heather abundance on the drained land, thought to be preferred by the grouse.
Natural resources

Grimwith Moor Reservoir © Tessa Levens

Utilities companies manage the land to collect water they supply to customers - we are working with Yorkshire Water to help keep drinking water free of peat discolouration. Quarrying companies may wish to dig through the peat to extract stone, leading to further erosion. Although no longer an issue in Yorkshire, peat was once extracted in areas such as the Humberhead Peatlands, for compost and fuel.
Recreation

Footpath across Glaisedale © Peter Christopherson

Peatlands can be used by the public for leisure activities. Whilst few walk, run or cycle across the peat itself, the track or path used can cause erosion and people bring an increased risk of litter and wild fire. Disturbance to wildlife can also be caused by people and/or dogs but, with care, people can experience the beauty of an internationally important habitat.
We have planted 210,470 cottongrass plugs in bare peat*.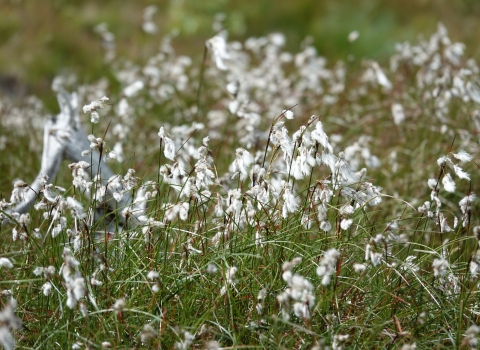 Biodiversity
Peatlands are unique & internationally important habitats with acidic soils and low amounts of nutrients. Specialist species have adapted to live on them, which are being, or have already been, lost on degraded and damaged peatlands.
Plants

Round-leaved sundew © Jonathan Proud

Blanket bog is dominated by mosses, particularly sphagnum mosses that thrive in this wet environment. There are few large plants but sedges and small shrubs are common. Intriguing plants like the insect-eating round-leaved sundew thrive in these environments and nowhere else.
Birds

Curlew © Damian Waters

Peatlands are also an important home for birds with many species travelling to breed on them during the summer, raising their chicks on the bountiful insects or the birds that feed on the insects. Examples include the golden plover, curlew, hen harrier, merlin, short-eared owl, meadow pipit, raven and wheatear.
Animals

Common toad © Emma Goodyer

Peatlands are inhabited by many reptiles, amphibians and mammals, huge numbers of specialist and endemic invertebrates such as insects and spiders; there is a whole community of organisms under the surface about which we know very little.
 
The mean depth for deep peat (>0.4m) across the North Yorkshire sites we surveyed is 1.25m. The maximum site mean depth was 2.84m at May Moss in the North York Moors although this site is more typical of  raised bog than blanket bog*.
Climate change

Double rainbow © Tessa Levens

Degraded peatlands release massive amounts of carbon into the atmosphere. An estimated 16 million tonnes of CO2 are released from damaged UK peatlands yearly. A healthy peatland should store CO2. This release of carbon contributes to climate change.  Extreme weather events appear to be occurring more often as the climate changes, resulting in greater amounts of water falling on peatlands during storms, causing more flooding and erosion, and greater chances of droughts in the summer.

 
Water quality

River Swale © John Skeffington

Vegetation loss has exposed peat to the elements. Dissolved and particulate carbon from eroding peatlands washes down into our reservoirs. This silt discolours the water and, when chlorine is added, forms a carcinogen. Water companies therefore spend a large amount of money  removing these brown particles. Restoration work on the peatlands dams the grips, slows the flow of water off the land and decreases the silt washing off.

 
Flooding

Water flashing across the moors © Jenny Sharman

Flooding in 2015 devastated cities like York and led to the collapse of Tadcaster's bridge. With an increasingly unstable climate, flooding is predicted to get worse and authorities are struggling to cope. Traditional methods, such as digging and straightening channels, aimed to move water as quickly as possible from the uplands and down through catchments. This has led to flash flooding as there is too much water flow for lowland rivers to contain.
In partnership with University of Manchester, and funded by Yorkshire Water, we have established a long-term sphagnum and ecosystem services study.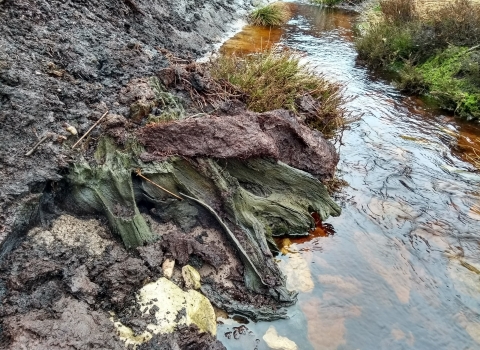 Environmental and cultural archive
Our peatlands store more than just carbon. They are a continuous record of natural and human history spanning millennia. Peat cores reveal past changes in vegetation and improve our understanding of historical land use and changes in climate. Sadly, degradation of our blanket bogs has led to erosion which is washing away this vital record and, with it, our story.