We estimate that Yorkshire's peatlands currently store 38,101,767 tonnes of carbon*.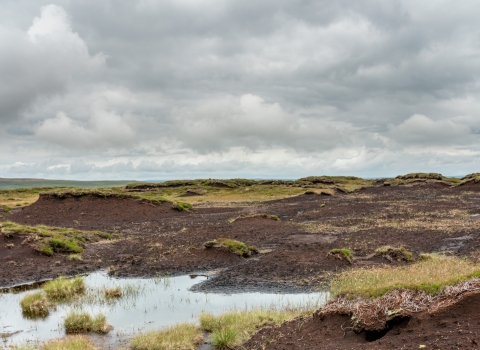 In Yorkshire
North Yorkshire contains 86,377 hectares of blanket bog, of which the majority is damaged. 24% of England's blanket bog is here in Yorkshire, making this a landscape deserving of protection. 
Our story

Buckden Pike © Gordon Haycock

Yorkshire Peat Partnership began in 2009 as an umbrella organisation to try to coordinate the restoration of the badly degraded peatlands in the uplands of northern Yorkshire. Since 2009, YPP has developed into the primary organisation coordinating the delivery of upland peatland restoration across the Yorkshire Dales National Park, Nidderdale AONB, North York Moors National Park and northern parts of the South Pennines.
 

 
Our progress

Grip blocking in Westerdale © Matt Cross

As at March, 2020, we have brought 31,526 ha of blanket bog into restoration management. We have blocked 2,100 km of eroding gripsand gullies, reprofiled and 3,250 km of hagging, and planted 220,350 sphagnum plugs and 210,470 cottongrass plugs, and revegetated 140 ha of bare peat.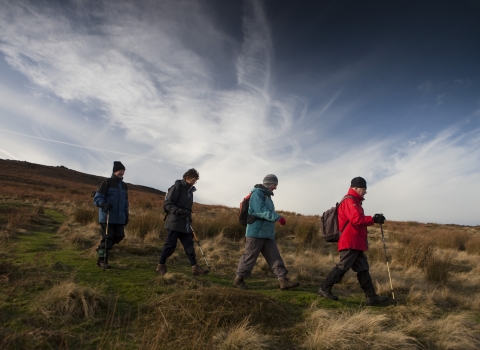 Public benefits
Yorkshire's peatlands provide many benefits; some you experience directly yourself and some are harder to appreciate (but just as important).
Public benefits
Climate

Weather station © Matthew Snelling

Peat is formed by dead vegetation that is unable to fully decompose in the waterlogged environment. Because the plants' decomposition is incomplete, their carbon is not released into the atmosphere; it is instead locked up in peat. Globally, peatlands are the largest terrestrial store of carbon. The carbon stored in peat is estimated to be twice that found in forests.
Water quality

The River Swale at Low Row © Tessa Levens

Many of the rivers in Yorkshire have a 'tea stained' colour to them. This is in large part due to particulate carbon and dissolved carbon that is washed off from peatlands through erosion features such as gullies and man-made drains. These contaminants have to be removed before water is drinkable. Healthy blanket bog filters the water before it reaches the domestic supply.

 
Flooding

Flooded road © Tessa Levens

Flooding has been a significant problem across Yorkshire, with the Environment Agency spending £24 million in damage repairs in 2015/16. The real cost is, however, estimated to be much higher. Man-made drains (grips) cause water to run off upland catchments quickly, which can put populated areas at risk in times of heavy rainfall. Blocking these grips and restoring blanket bog vegetation can 'slow the flow' to keep these important habitats wet and limit flooding further down the river catchment.
Recreation

Family recreation © Watershed Landscape

Blanket bogs are fantastic places to visit. You can enjoy exercise, fresh air and tranquility in stunning landscape and, with luck, see some unique wildlife.
Economy

Kettlewell village shop © Lyndon Marquis

Not only are peatlands a fantastic place for people and wildlife, they have a very important economic impact on the region. The ability to limit flooding in heavily populated regions could prevent £millions in damage repairs.
Functioning peatlands also reduce the amount water companies have to spend to clean contaminants. This reduced production cost could result in cheaper bills for customers like us.
Millions of people in the UK spend their leisure time in green/blue spaces. The main reasons to visit these places are the habitats and wildlife that can be found. This in turn, supports a range of local businesses including nature tourism, that may otherwise become isolated. Without intact habitats offering diverse experiences, people would not visit these rural locations.